Setting up the iOS app for iPad
Before your begin:
You will need to make sure your account administrator has added the number you will be using for your iPad.
In addition, your account administrator needs to provide you an authorization code which can be found next to the number added in the account portal.
Step 1
Create an account.
If this is your first time logging into the app you will need to set up an account by selecting "Sign Up" at the bottom of the Log In Screen.
Step 2
Sign Up Information.
Enter your First Name, Last Name and a valid Email Address. In the event you ever forget your username or password, we will email you with instructions for reset. It is also important to enter a valid UNIQUE email address, this email must be different than any previous iPhone or Android setups. You will also need this email address to complete setup in the final Step 9.
NOTE: Account Administrators, this is a new username and password for the App. Your existing administrator username and password will be required at the end.
Step 3
Create Username and Password.
In the event you get logged out of the eDispatches app or get a new device, you will be able to login again with your Username and Password.
Step 4
Terms of Service & Privacy Policy Agreement.
In order to use the eDispatches App you will need to read and agree to the Terms of Service and Privacy Policy.
Step 5
Verify Device
iPads are unable to receive text messages so you'll need to select "I can't receive text messages".
Step 6
Auth Code
You will need to contact your account administrator for a 4 digit Auth Code to proceed. Your account administrator can find this 4 digit Auth Code next to your name in the eDispatches web portal account.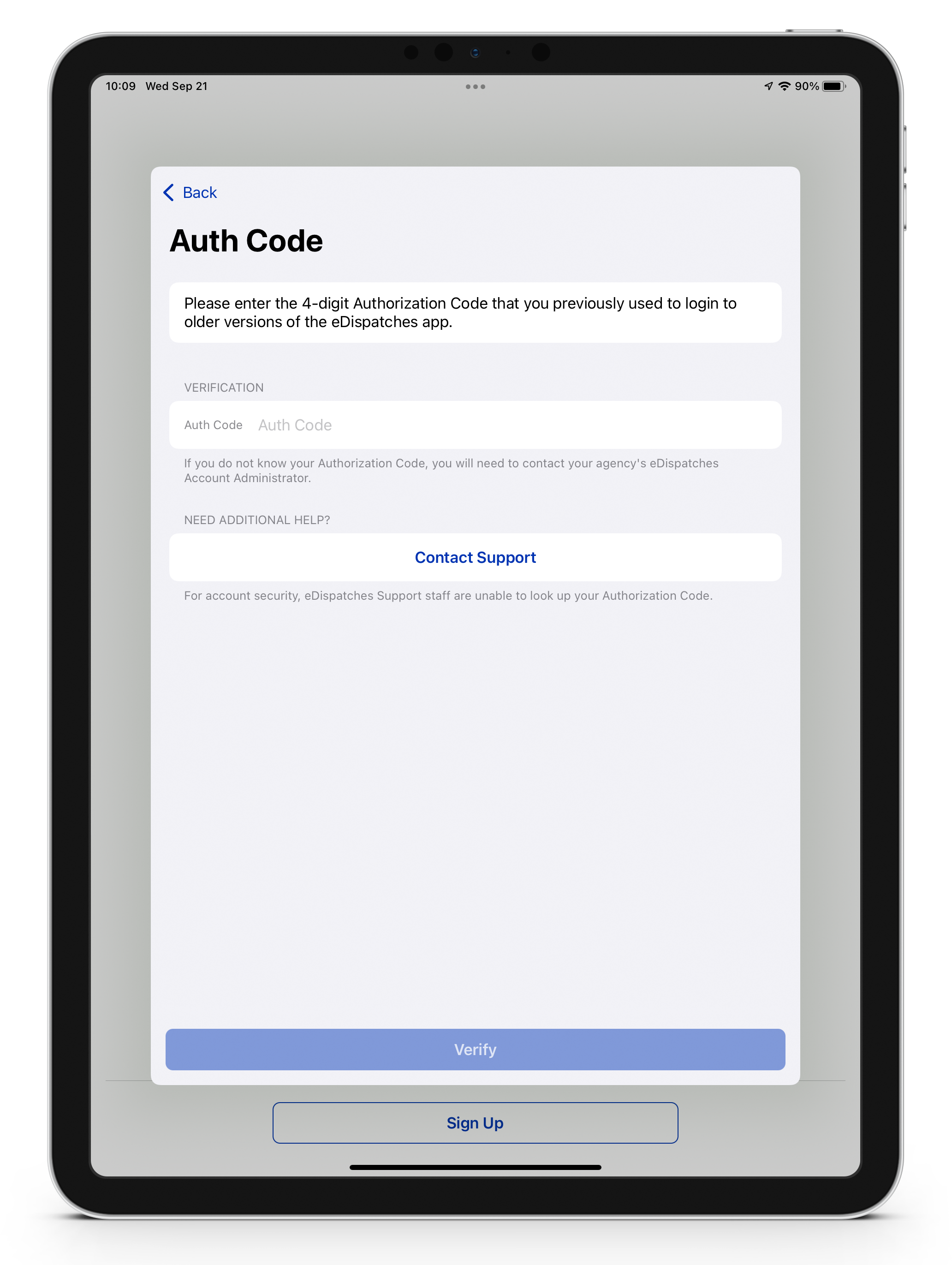 Step 7
Verify Email
An email was sent to the email address you provided in Step2. Please check your email and use the 6 digit Pin Code that was sent to you to proceed.
Step 8
Account setup is complete
Congratulations, you've setup your iPad with the eDispatches App!
Admin Login
If you are an eDispatches account administrator (you manage the recipients of the account and/or have access to send priority messages from app), you will need to enter your administrator username and password on this step. For additional information on this step, please review Linking Administrator article.